Saturday, September 12th, 2009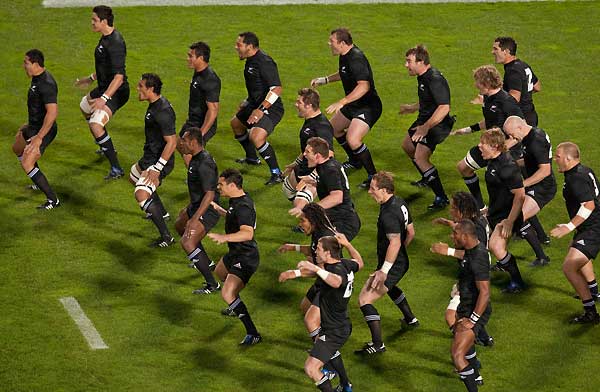 Well after the dance, it was all down hill !
Well done Boks 3-0.
How did they do it ?
1) Kick to known 'fubbles' in the ABs back line.
2) Defend like the Greeks.
3) Take 3 points within 60m.
4) Play the new rules, by forcing mistakes in oppositions half.
5) Exploit the lineout advantage.
6) Played off a structured platform. NOT a ELVs hangover style.
What the Boks didnt do. The ran no back line moves, little phase play, little pick and go.
What the ABs havent learnt
1) ELVs for forward play ended before the Tri Nations.
2) Mauls are back.
3) Lineouts are important.
4) Passing skills are important.
5) Catching up and unders are important.
What the Coaches got wrong.
1) Selections of players that are not performing at this level (Donald, Rokocoko)
2) Failing to combat the rolling maul (Hansen is hoping IRB ban it, so he wont coach it, or maybe he cant.)
3) Stupid tactics: Chip kicks in our own half, poor kicking game, poor player selections.
4) Merry go round of swapping positions between Carter and Donald. Experiments in the live test match arena are not on !
What the NZRU have got wrong .
1) Appointing a failed coaching team.
2) Carter Sabbatical.
3) Transforming NZ rugby from structured form of the game to an ELV game. That failed.
Some Points.
1) With out Carter this team is worst ABs team in years.
2) Scrums are adequate.
3) Lineouts are poor.
4) 2nd five eights is open to any one who can take it.
5) Ma'a Nonu is a Ken Worth truck at 5 miles per hour.
6) Joe Roco is hopeless, in attack, defense, under the high ball. But hey he had a great game Auckland vs Northland. So the coaches re selected him.
RWC 2011…we are toast !
Building a team is like RED WINE, a team ages over time and gets better and gets better, dont shake it or stir it !