Saturday, October 31st, 2009...7:12 am
ABs(32) vs Aussie(19):Much better !
Jump to Comments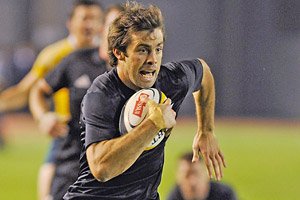 Zip zap 'Conrad' scores !!
Hanson: In charge of the backs, and on first impressions what a great improvement. Just proves how useless Wayne Smith was at forming a back line attack. We saw some structured attacks, great stuff !
Henry: In charge of the forwards, and once again on first impressions 'much better', but not "BOK" as 'good' ! Lineouts better, but scrums had issues and Aussies managed to muscle up on the ABsforwards in the first half. What would have the 'BOKs' have done to us ! Didn't see too much in the maul department.
Smith: Defense, just the same. Who needs him ! We could save $500k here !
Noted improvements…
1) Cory Jane, makes you say what was that other guys name, Joe Rock who ??
2) Carter, on fire as the operations captain, watch out up north, here we come.
3) Hore, some great tight forward work !
4) Read is my preferred No 8, sorry Rodney !
This game saw both the ARU and NZRU bank at least $6,000,000 NZD each ! Hope its not a regular thing ! But economic needs must be met !
Role on summer tour !
This cant be good..