Sunday, November 1st, 2009...4:05 pm
Dear Aussie Rugby Fan.
Jump to Comments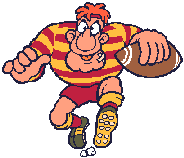 How to win rugby games?
7-0 vs the All Blacks.
Hmmmm.
Well I can say that if a team is losing to another team on consecutive meetings then the issue are:
1) 70% of the fault lies with players numbered 1 to 8: Winning structured plays (scrums, lineouts, kick offs, mauls) is critical to supply the main decision makers with the ball so the can execute the game plan. Winning the breakdown these days is a team effort, but having the heavy and stronger forwards at the breakdown gives you better than even odds of winning here as well. So forwards share most if not all this burden as well.
2) With (1)  included, 85% of the fault lies with players numbered 1 to 10. Getting the ball and knowing what to do with it is critical. Execution of the play is critical to success.
So Aussie fan you aren't going to start winning until your forwards start winning.
That goes for the ABs as well when they next face the BOKs (3-0 vs All Blacks). The BOKs must be the 'undisputed world forward champions' at the moment.
Rugby is that simple,  'forwards' determine the victory.