Saturday, July 5th, 2008...8:09 am
ABs(19) vs Boks(8)
Jump to Comments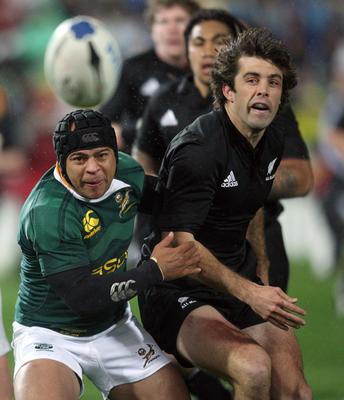 The combination of Carter, Nonu and Smith is becoming formidable. I like it.
Andy Ellis is not there yet, and I guess the selectors know this so I guess that's why he is getting more game time. I kinda like Jimmy Cowan in the wet, he's a rough diamond, and I would give him more game time.
Sitiveni Sivivatu's was replaced in the second half with good reason, Sitiveni is up one day down the next. I guess cold weather is a bit too much for his type of game.
Big Bad Brad was my star forward. League players take a good look at Brad and see if you can cut it in international rugby forward play before your consider the switch.
Sean Fitzpatrick said here.."Even Sione Lauaki did well when he came on and I thought he added a new dimension."… Sean sounded surprised, and so was I. Yes he did add more than usual. But not consistent enough for me, I still prefer Mose Tuiali'i from the Crusaders.
New rules or old rules, I think the conditions would not have help either case. The short lineout rules didn't matter, so dump that ELV. No mauls to speak of (and that was in a wet game) as they have been removed from the game with the new pulling down the maul ELV. The rest of the Tri Nations the maul count will be lucking to get beyond the number of fingers on your hand. That's not good, mauls have their place in rugby union. I bet you will also see few downunder jurnos making comments on it as well.
Well done ABs, no McCaw and still a win !