Tuesday, August 10th, 2010...3:23 pm
Sonny Bill Broken Again !
Jump to Comments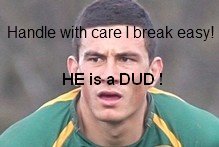 SBW is broken again…jes wayne…!
Source: Sonny Bill out with injury again
Midfield back Sonny Bill Williams, who made his New Zealand rugby debut last weekend when turning out for his Belfast club in Christchurch, is not available for selection due to a tight hamstring.
COMMENTS: The story of this mans life, on for one game, off for two ! Not worth the NZRU dollars !