Thursday, March 26th, 2009...11:34 am
ELVs: Mains is soo fooking correct !
Jump to Comments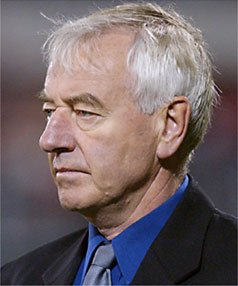 Laurie Mains, along with Wynne Gray (NZ Herald Senior Rugby Writer) have said it out loud "BRING BACK TRADITIONAL RUGBY RUCKING"…
Source: Laurie Mains in laws plea – Richard Knowler
THIS ARTICLE DESERVE A FULL REPRINT
A frustrated Laurie Mains has slammed rugby's lawmakers and pleaded with them to stop changing the rules.
He also despaired that "PC crap" was having an impact on the code.
Former Kiwis coach Graham Lowe got former All Blacks coach Mains' hackles up when he claimed rugby fans were switching to league because it was more exciting and less predictable, and that rugby officials had their "heads in the sand".
And what irked Mains most is that he agreed with a few of Lowe's sentiments.
"If the lawmakers would get their act together and go back and look at rugby when it was a great game and use that as a starting point and get rid of this debacle that we have around the tackle area, and get forwards involved instead of having them as defenders out in the backline, then we could get back to the great game that we used to know," Mains said.
"I think our current administrators have a heck of a lot to answer for."
Mains, who coached the All Blacks from 1992 to 1995, slated the Experimental Law Variations that were introduced last year.
"The ELVs are not working. The idea is fine but under the current law and with a lack of rucking and a lack of driving in our forwards and the debacle that is the tackle, the ELVs are not a band aid on it really."
Rulemakers and referees have a lack of empathy for what happens at the breakdown and need to understand it is near impossible for players in the heat of battle to make accurate judgments and do everything right: "To issue yellow cards for that is absolute nonsense."
Mains said players would still be able to play good rugby if the administration brought back the rules of 15 years ago, when rucking was allowed in an attempt to generate quick ball.
"I would still hold out hopes that we put the PC crap aside and preserve the game because some of what Graham Lowe says is correct. Rugby league is gaining popularity because it is simpler and if you look at its laws they have not changed dramatically over the years, unlike rugby.
"If they don't do that, then rugby is in serious trouble."
Mains is also worried that the technical skills of forwards coaches from yesteryear are being lost.
"There is no forward coaching as we know it. That is also a major tragedy binding, driving and looking after the ball were an integral part of coaching, Mains said.
He also believed the game in New Zealand had suffered since former chairman of the laws Tim Gresson was tossed aside six years ago. Gresson, Mains said, had a firm grasp of what laws the game required and would not amend them unless he believed it benefited the code.
"Let's hope rugby does not decline too much further before they see the errors of the last 10 years or so and go back to the basics of what rugby was and fix it up."
COMMENTS: How did rugby get where it is today, lost. It got there because the leaders (CEOs) allowed it to get there, the CEOs listened to NON RUGBY LOVERS, thats sponsors like ADIDAS who dont know sh*t about the sport, plus they listen to market surveys taken with mums that are too scared to see little Johny get into a bit of scrap and a little bloody. Also the birth of professional rugby provided the impetus for PC administrator idiots to tweak this and that that took the game away from what the 'founding fathers' of rugby had been built up over a 100 years.
Mr Tew (CEO NZRU) this has happened under your 15 year watch. Fix it, or you will go down as a admin bumpkin who assisted in ruining this once great game.
Read the foundation posts ( top right hand corner of this page) for more !
Prev Post on the subject: I want 1990s rugby back, and I am not alone !