Thursday, July 10th, 2008...5:51 pm
Honiss: You did ok mate !
Jump to Comments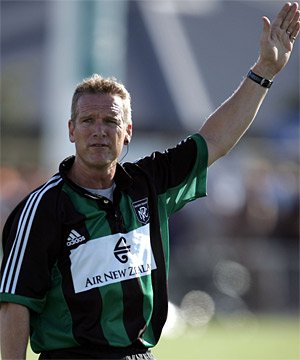 Source: Paul Honiss hangs up his boots
In all, Honiss refereed in 211 first class matches, including 49 Super 14 fixtures and 71 Air New Zealand Cup games. He also refereed in three IRB Rugby World Cup tournaments in 1999, 2003 and 2007.
Some real slip ups, (funny how the media drags you down on your last day):
* World Cup, 2007.
Honiss' shocker of a decision to disallow Samoan second-rower Joe Tekori's try against the Springboks not only penalises the gallant Pacific Islanders, but leads directly to a South Africa try when the Boks take a quick tap while Samoa captain Semi Sititi and others are remonstrating with the ref about the call. The match, which was heading towards a potential thriller, now turns into a blowout to South Africa on the basis of that 14-point swing.

* World Cup, Sydney, 2003
Honiss was in charge of the World Cup opener between Argentina and Australia when his refusal to allow the Pumas to scrummage aggressively allowed the hosts a much more comfortable evening than their play merited. Australia wins 24-8.
My Comments: Ok a couple of clankers, but many games well done. Even Paddy O'Brien had his issues. So in all well done. Rugby referee is a damn tough job with millions watching on TV. Not many would take it on. So remember that next time you bag a ref !