Thursday, July 3rd, 2008...3:42 pm
Baby blacks getting blooded by a springbok kill.
Jump to Comments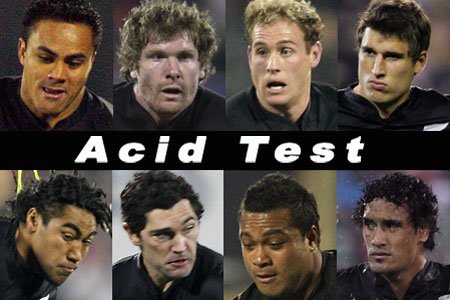 Source: Young ABs face inquisition Springbok-style– Duncan Johnstone
From top left to bottom right
1) Wulf: O so start, must impress to keep wearing black, ELVs require a kicking back three, so can he ?
2) Thomson: Little game time yet, but solid Super 14, so I hope he shines.
3) Ellis: Should call Chris Laidlaw and get the 'how to' manual on how to pass ! Must improve in this critical role.
4) Boric: Needs more game time and he may get it, I like what I have seen so far.
5) Nonu: Three tests, three excellent performances, whats he doing in this group then?
6) Donald: Needs game time, which will be hard while Carter is around.
7) Lauaki: Send him home, he is a failed experiment, too fat, slow and rugby dumb.
8) Kaino: Fail here against the Boks, and he will be gone, needs to Zinny up and muscle in!
I see that Conrad Smith is not in this list, and nor should he, Conrad is a class player in my view. Kahui had the rub of the green in his game (vs England) and had it easy, Conrad had to make his own luck.
 Wait and see…