Sunday, June 1st, 2008...3:55 pm
Super 14 Final : Birth of the generic ELV rugby style!
Jump to Comments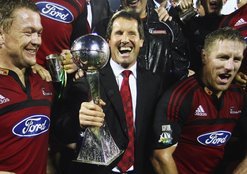 Crusaders win!
Yes I can honestly say this was one of the better ELV rugby games in the Super 14 season. But what did Robbie Deans work out at the beginning of the season that the other Super 14 coaches did not.
1) ELV rugby laws allows play to be very loose (non structured): Using free kicks solely for tap and go (add to this short lineouts) allows a game to have very little traditional rugby union structure. I believe Robbie new that having scrums and long lineouts (with the odd maul) allowed a better platform for attacking rugby. The final had more than average scrums, long lineouts and mauls. This is why the final was a better representation of rugby union that earlier Super 14 games. Also Robbie doesn't need to be a rocket scientist to realise that the field wide defensive line is removed while executing a scrum or full lineout.
2) The kick and chase game is now critical to acquire territory: Kicking to find a defensive player out of position, up and unders landing outside the defenders 22, kicks that find middle ground and bounce causing defenders to take time to respond. The game of force back is more prevalent under the ELV rugby. To have a smart kicking game you need smart kickers, this means all players numbered 9 to 15 must have an eye for the tactical kick. Just having a smart kicker at first five or fullback is not enough. The aim is to execute running rugby in the opposition half, the Waratahs on occasion broke this rule.
3) Player type selection: Selecting a tight five for solely tight forward duties is over. Brad Thorn is the new tight forward mold, he must be loose and tight when the circumstance requires it (Yes you guessed it, ARU can now go shopping for forwards in the NRL). I guess while scrums still require pushing the only true tight forward is the tight head prop. Mobile, tall and very athletic tight forwards are the prescription. A game for all shapes and sizes, not any more!
3) Fast ball beats defense: This is not just true for ELV rugby, but the execution of fast and accurate passing finally allowed the Crusaders wings to get some space (on one occasion it lead to the try of the game) to run around their opposition.
4) Fitness: Yes having the puff and pace to go the distance, this was very evident in the last 20 minutes of Super 14 final. The side that lacks fitness is slower to set up an attacking back line, slower to run onto the ball, slower to cover the field in defense and more likely to drop a tackle.  The Waratahs were dead in the water in the second half.
Why should I be worried about the state of rugby union when the Super 14 final was confirmed by all as such a good game.
Firstly, there was only 13 out of 23 ELVs applied in the 2008 Super 14 season, yet to be used laws around the maul and lineout allow for more traditional rugby union structure to be removed from the game (see Foundation posts for more discussion). 
Secondly, answer this question:  Is the above style likely to be adopted in every ELV rugby game?  Yes if you want to win! Rugby union may be entering one style of play, the Crusaders way!  I am afraid when ever I watch NRL or AFL all I see is the same generic game every weak, if the players wore the same colors each weeks I wouldn't know if different teams were playing. Rugby union should not be getting design concepts from NRL or AFL. It would seam otherwise !
The rugby union styles of England, France and South Africa may be morphed into the Crusaders ELV rugby style and the winning of the game will just come down to who executes this style better than the other. This will lead rugby union to be boring and indifferent!
Ian McGeehcan has a point when he said ..""My concern is that we will end up playing one type of game, that the variety and depth of options which the game has always had will be taken away"… HERE
A quote before you leave:
.."They say that death kills you, but death doesn't kill you. Boredom and indifference kill you.".. By Iggy Pop 
This quote highlights that rugby union greatest sin is to be boring and indifferent.