Monday, November 22nd, 2010...6:46 am
National Sides and Immigrants
Jump to Comments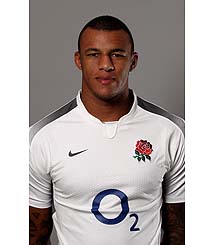 Courtney Lawes: Flanker for England, Jamaican Father, English Mother, 6ft 7in, 17 st
UPDATE: I define immigrants as those who parents or grand parents immigrated to the current country. Of course Mr Lawes is not an immigrant, yet his father was!
We have all heard the English refer the to All Blacks as a mix of caucasian and pacific islands descent, with a little touch on needle.
New Zealand saw an explosion of its Pacific Island population under the Labor Prime Minster Norman Kirk (1970s, I think) as he saw the need to bring in a work force to assist New Zealand manufacturing base.
England, as we all know has millions of different nationalities within its population. Yet their rugby team is mostly caucasian, and has been for years. One should note that the West Indies population in England are large people, they are big, strong and very athletic.  Add to this Africans, Jamaicans etc.
QUESTION: Why is there a difference between New Zealand and England percentage mix of race in their respective rugby teams?
In New Zealand the secondary school rugby competition is the most competitive rugby tournament in the under 21 world, and if you are a headmaster and rugby coach (Graham Henry) of say St Peters College  and you want to beat Kings College  and you here about a 16 year old Tongan lad who is 6 ft 2 in, 100 kilo and fast (Jona Lomu, Inga, Nonu, etc), you would offer him a scholarship to your school so he can join the rugby team. In other words much is done to bring the cream to the top, rugby talent is hunted and promoted no matter of the individuals heritage status. The love of winning rugby guides all.
So what does England do ?
I dont know, but I am sure if they had more talented athletic West Indian and African giants playing rugby union at secondary school then they would have their own Lomu's, Nonu's etc.
Time to role out more  rugby scholarships to pommy exclusive  rugby schools, old boy ! It would be great to see.
This is a reason why I would love to see USA accept rugby union as much as we do, those black American athletes running down the wing would be a great thing to see!