Saturday, November 6th, 2010...5:18 am
ABs(26) vs England(16): England won 2nd half WTF !
Jump to Comments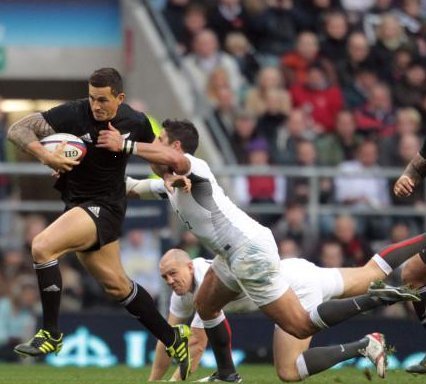 SBW first test match with the big boys !
I will give a 'well done' to the ABs Coaches, they need to find out if the B team can cut it. You cant keep selecting players for the bench and not let them earn some playing stripes. Henry's mob remembers all to well the RWC 2007 loss to France when the ABs bench lost the game and could do nothing to change the winning momentum of France in the last 15 minutes. So Henry has to test the B team, after all there are NO mid week games to do this.
The coaches took a risk and I think that the learned what the need to learn without a loss. That's was the objective of this game.
England won the 2nd half. Well done England. But really NZ is number 1 team in the world, England is 5th(?),with this in my mind the ABS were awful in the 2nd Half, and you can add the last 10 minutes of the 1st half to this.
What was learned…
1) Joe Rokocoko is done ! Too slow, lazy and coughed up the ball three times in 10 minutes that nearly allowed England to score early in the 2nd half. Guilford, Dagg, Ranger are all waiting to have a go.
2) Sonny Bill Williams: Did no better or less than Ma Nonu, and neither has the rugby smarts of Conrad Smith. So I see the 2nd five is a toss up between SBW and Nonu, Nonu still has the lead by an inch. One of the reasons we lost the 2nd half is because the organisation of the back line went AWOL, Dan Carter cant do it all by himself. Don't get fool by the cheer leading press, he is improving, no negative points yet, but not at center !
3) Toeava: Saved a try well done. But still has a negative balance sheet. Others are better. Guilford, Dagg, Ranger etc.
4) Mathewson. Stood up, did well. Watching him over this tour !
5) Gear: Did ok, one good try, needed more chances.
6) Leadership: The backs looked lost in the 2nd half, Conrad was missing and that is a worry.
The hard core stood up as usual, well done. Brad Thorn, McCaw, Carter, Reid etc
What does England need to do: Find more backs like Foden and Hape, Tindall is done. Get fitter, the pace wasnt as fast as last weeks test match.
The game lost its flow in the 2nd half, the handling skills and ref didnt help either…
All in all well done ABs…and England for that matter.