Sunday, November 29th, 2009...10:30 am
ABs(39) vs France(12): Who didnt tackle then !
Jump to Comments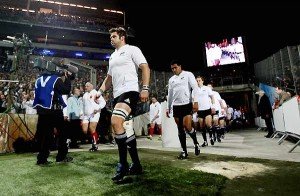 ABs roll out for a win…
The season ended, and all the NZ Monday morning press are in orgasmic mode with the ABs. Sorry I am just very warm.
Why..
The french midfield couldn't tackle, the BOKs, Aussies, Welsh and English could and the results where very different. We won some and lost some. The French were just very bad on the weekend, my guess they were on 'happy juice' after beating the BOKs and thought the ABs would be a 'not so hard'.
Any injuries to Conrad Smith, Dan Carter or Richie McCaw and this ABs team is very very different.
This season to me will be remembered by 3-0 losses to the BOKs, and a home series loss to the French.
This includes the Tri Nations blunders on selections and tactics by the coaches, I mean not picking Cory Jane after a great French test, the coaches suffered blind loyalty for Joe Rokocoko. The only reason Sivivatu is still there is for the same reason loyalty, and the 1 in 3 good game, Zac Guildford has a workload twice as high as Sivivatu, so he better watch out.
So the errors this year can be found in the top three inches of the coaches head. Hanson and Smith are dead weights, TED should rule alone !
PLEASE STOP THIS: All Blacks: Hansen keen to coach forwards again