Saturday, April 11th, 2009...6:27 am
ELVs: Four Hero administrators !
Jump to Comments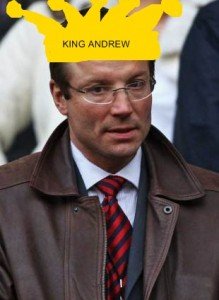 King Andrew and his team saved rugby from the liberal thinkers ! All Hail the king !
Source: RFU celebrate victory in ELVs battle – Scrum.com
Rob Andrew – RFU Director of Elite Rugby England
Kevin Bowring – RFU Elite Coach Development
Chris Cuthbertson – RFU Council member RFU ELV task group
Ian McGeechan – British and Irish Lions coach
These fellows saved rugby union from the mess that it is in now. However this blog accepts that they didnt go far enough and fix the breakdown by bring back the slipper in the ruck !
Well done from down under !
Many in my age group ( thats over 40) thank you. As we have seen 20 plus years of rugby union and we know what the before and after ELVs looks like.
Extracts..
"The whole idea of the ELVs is to improve the sport and while we support the majority of the globally trialled ELVs, the feedback from the Game and our game analysis indicates that pulling down the maul and unrestricted numbers in the line-out have not improved the game."
British & Irish Lions coach Ian McGeechan, a long-time critic of some of the ELVs, also welcomed the decision. "We're now keeping variety in the game and that is very important," said McGeechan, who is also Wasps' Director of Rugby. "The maul allows you options, as do the numbers in the line-out. It makes sides think. The attacking side have got choices and the defensive side has got to make decisions. That's what rugby is about."