Wednesday, November 5th, 2008...5:55 pm
Heeees here ! (Ref Wayne Barnes)
Jump to Comments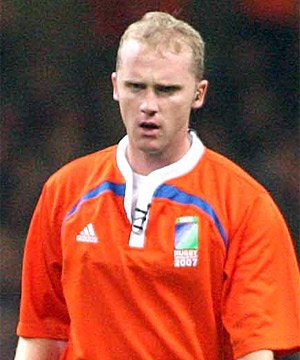 Wayne Barnes Ref All Blacks vs France RWC Quarter finals – France won. Soon to ref the ABs vs Scotland this Saturday.
Dear Mr Barnes,
Are you aware that the All Black coach 'Mr Henry' displayed 35 minutes of your referring performance to the NZRU coach appointment committee, allowing him the ultimate excuse for his failed RWC 2007 campaign. A campaign that cost the NZRU $4 million dollars and much embarrassment. The fault was yours not his, Mr Henry proclaimed! This argument ultimately secure his re appointment.
Are you also aware that you were judged harshly, and some feel the touch judges should have been more proactive in providing you more guidance in offsides and forward passes as your were a junior international referee at the time and the modern game has proven to fast for a single referee to make all the correct calls.
And finally, maybe the wrong call of the complete RWC was by Paddy O'Brien to advise the touch judges to be less advisory to the referee in all RWC games. A call that didn't not recognise the step up in pace from the RWC round robin games to the RWC final games, where more controlled advice to the ref in the middle was absolutely critical. I am sure that you noticed the number of extra calls that were made buy the touch judges after the ABs quarter final. Noticeably the many forward passes made by England (Aussie vs England quarter final) that were called back. One can only conclude that Paddy O'Brien realised his massive f**k up, and fixed it within 24 hours.
But I do hope that you are a little fitter this time around, and the microphone works well between you and your assistant referees (touch judges for those over 40) so we can all have a good game.
God Bless, from one kiwi who thinks there were more New Zealanders involved in the ABs RWC disaster than a single Welshman.
Cheers
BetterRugbyRules