Saturday, July 26th, 2008...10:18 am
All Blacks(19) vs Australia(34) – Spanked.
Jump to Comments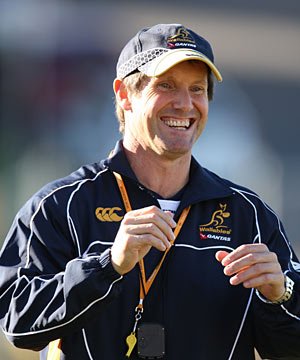 Robbie Deans is turning the Wallabies into the Crusaders. He is following this ELV game blueprint. In a few short weeks the Wallabies are 5-0. Deans didn't meet the Aussie players until after the Super 14 ended, unlike Henry's mob who spent the whole Super 14 studying games and players. Aussie is supposed to have less depth than NZ, and yet Deans player selection has proved to be outstanding, the Wallabies did not miss Gregan, Larkam and Mortlock did they!  Deans has a sharp rugby mind and I think his successful trend will continue. Sure he has yet to get success away from home, and that wont be easy, but it will happen. Aussie must be favorites for the Bledisloe cup, after all 34-19 was a thrashing, a real spanking!
Deans read the ABs weakness like a children's book, it was that easy, and he exploited them, well done. There are those that say, watch out for the ABs backlash, I say watch out for the Aussies second win in a row 2-0! Are they that good, or were we so bad that we made them look that good, I guess this season will show either way.
Lets look at the ABs.
Firstly, the AB players did not loose this test match, the coaches did, from poor player selection and incorrect tactics. I have said on this blog that the ABs have a good A side and a not so good B side, the second half saw this B side player for the full 40 minutes and it was horrible, the capitulation in the last 10 minutes against the Boks highlighted this weakness that seam to have gone ignored, maybe it wont be now. ( Well Deans didnt miss it, did he !)
Player Selection
The back four:Muliaina, Tuitavake, Kahui,  Sivivatu as a combination (not individually) was a disaster. Smith and Macdonald should have been starting. Tuitavake and Kahui are not first string players. Sivivatu is a one trick pony, he has no kicking game, sure he was more industrious in this test match but to counter the attacking teams kicking game you need more smarts in the back four than Muliaina (who had an outstanding game as an individual) on his own. Henry selection of Kahui over Smith was pure rotation, Kahui does not have a hair on Smith, Smith is a leader of the backs and can organise the wings and defence the same way Frank Bunce did. Kahui did have a good game against the English in the second test, but that was soft english meat and not the same as the first test where Smith shined and the English werent already beaten. Henrys selection of this back four combination was plain stupid. This loss has shown that up, and him up.
Nonu, Kahui: To counter Ma'a game all you need to do is tackle him, thats it. He has no kicking game, he is a one trick pony and thats 'run like a fridge'. If you are going to select him, you need to counter his weakness with strength and that's by having a good first five and center around him. Kahui did not meet this demand, he is a young player with a inexperience head, latter years will see him be better I hope. Ma'a needs a leader outside him and thats why the Carter, Nonu, Smith combination works best. Henry selection was stupid again. Rotation weakens combinations. Dam fool !
Andy Ellis: There was talk before the game that Cowan would start, he didn't and that was a mistake. Cowan, sure not yet full tested, but he is more 'Justin Marshall' than Ellis and as it happens the game last night could have done with that type of player. Ellis did 'put out', but I guess I fancy Cowan 'I take no shit' attitude better!
Forwards: This game highlighted the need for replacements, not from the front line team but from the squad. These players should be dropped from the squad: Braid, Lauaki, Mealamu. Kaino should be benched as replaced with Mose Tuiali'i. Lauaki was shown up, he was selected as an impact player for 10 minutes only, in this game he had to play for 40 and it was sooo painful to watch, his Super 14 form did not warrant his nine cat lives as an All Black, another stupid selection by Henrys mob.  Mealamu is not what he used to be. The the hooker (Andrew Hore ) should only be subbed in extreme situations because his lineout throwing is critical, something the Henry mob has yet to learn. In the last two test matches the immediate subbing of the hooker as lead to losing critical linouts at the closing stages of the game. Deans know this, he does not sub off (rugby) hookers with such frequency as Henry.
Tactics
Deans experience with the ELVs shined last night, Henry has yet to pass this exam. His team selection did not support the much needed force back game that the ELVs require (I dont like it either), and that's why we spent most of the game in our own half. The ELVs allow a team to assume, in error, that less rugby union structure may be best for the attacking game, the ABs had too often slow forwards running in the backs negating any attack. The ABs did not follow the mandate that 'forwards be forwards' creating up the middle pick and go and driving mauls, rather they decided that the should be backs and playing glorified touch rugby out wide. (I suggest your read this post: Super 14 Final : Birth of the generic ELV rugby style!). The wide subbing of players in the second half was panic, why else would you let Lauaki play at the back of the scrum for so long, George Smith was beating us, but he didn't need to, as Lauaki gave the ball up 7 times in as many minutes.
A loss, so what!
I have said before that this year was going to be patchy, if not bad. You can't loose so many front line players after RWC and march on as if nothing has happened. It takes time to rebuild (but under Henry, maybe too much time). But I do suggest that if Deans was AB coach the record so far would be 5-0, with out a doubt !
Loosing a rugby game does seam to bring out the calls for structural change, and panic, this is not needed, the poor performance of the ABs is down to the ABs and not NZ rugby (at the moment). Yet I hear that Sean Fitzpatrick is calling for the selection of overseas players. And I bet the 2 cell brained media idiots will join him.
Source: All Black cracks only papered over

…"because of the exodus overseas and the injury to Richie McCaw. It's just another example of what I have been talking about – our lack of depth with experience at this level and how it is hurting us."…

More here: Fitzy: A good player, a thinker not so good.
Sorry, did the Aussie's select overseas players after they lost Gregan and Larkam (and Mortlock out through injury) ? When we lost 5 games in a row under John Hart would players from overseas make any difference, nope. Losses maybe used to maneuver political positions on the weak minds of the rugby public for the individual own advantage, but we are loosing because we have made poor administration decisions at the NZRU board level (Tew) and coaching level (Henry).
Henry's mob wont last the next 24 month in their current form. After the last RWC there should have been a break up of some sort, maybe Hanson, Smith, Cooper, something like that. But to keep the same trio was not smart.
Thats two losses in a row, it better not be 3, because thats a trend, and we have away games after Auckland, so loosing trend gowth would not be good print for Henrys mob.
We have the players and skill to beat them all, it's just a question do we have the coaching smarts to make this happen.
Henry weakness is his lack of ability to add up on the ledger player by player rugby smarts, sometimes he picks players for the size and 2 minutes of brilliance in some easy game, without evaluating the performance of the player in a pressure cooker environment.  Should these comments also go for Hanson and Smith, I dont know, but there silence does not help them.
One comment made by Deans on the Sky TV interview after the game, when asked about Giteau and Barnes he replied that 'they were good thinkers'. That is an interesting Henry and Deans contrast.
UPDATE1:
Source: All Blacks to play smarter to stop losses – Gregor Paul
Finding some more structure and playing in the opposition half have been highlighted as the two key areas where the All Blacks need to improve if they are to avoid losing three in a row this week.

That and holding on to the ball. In what was a frank and honest assessment of the All Black performance last night, coach Graham Henry said the final 30 minutes where the All Blacks kept coughing up the pill cost his side.

"That was disappointing," he said of the final 30 minutes. "We turned over a lot of ball and that cost us. We ran out of composure or maybe we ran out of steam.

"We need to find some more balance next week and some more structure. We played too much rugby in our own half. We did too many things that were 50-50 and probably not on. When we do kick, we need to chase well."

Lauaki had a difficult night with his hands – probably spilt more ball than anyone else and would be, according to Henry: "Pretty disappointed with the way he played. He'd been playing well coming into the game."
My Comments: Lauaki, jes wayne he better not be there next week ! Looks like Henry been reading my blog, ha !