Friday, May 2nd, 2008...3:10 pm
ELVs – Hail the New Caesar (Ian McGeechan)
Jump to Comments
Thank god there is some one out there not pouring red wine on their cornflakes.
This article is soo good, a must read. Please read it twice.
ce.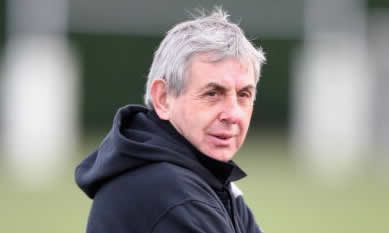 Coaching guru Ian McGeechan fears the ELVs have the potential to ruin rugby's traditional qualities.

The IRB council has voted to introduce the experimental law variations on a global trial beginning on August 1.

The vote was made at a full council meeting in Dublin.

But McGeechan, the director of rugby for the Wasps club, has gone on the attack over the proposed law changes.

The former Scotland national coach, the leading contender to take the British Lions to South Africa next year, said he had little time for the IRB's argument that the ELVs would make rugby easier to understand and referee.

"My concern is that we will end up playing one type of game, that the variety and depth of options which the game has always had will be taken away," McGeechan told the Daily Mail.

"You end up with an average of something like 58 free-kicks under the ELVs and a game which basically becomes like play-the-ball in rugby league.

"My biggest worry is that it will change rugby union fundamentally.

"Every director of rugby in the Premiership and every head coach agrees we are losing the essence of the game. The game has prided itself on being one for all shapes and sizes but not for much longer unless we're careful.

"They are saying the ELVs make no difference to the scrum, but they do. Props will have to change because their job will change.

"With free-kicks you speed the game up to such an extent that they will have to be ultra-fit and mobile.

"The experiments have had a deconstructing effect on the Super 14 to the point that it becomes boring. You cannot have a contest at the breakdown because the referee gives a free-kick and, if he doesn't like the look of the next breakdown, he gives another one. And so on."

The Welsh, Irish and English rugby unions led the opposition against the ELVs.

Among the ELVs brought in for the trial is the contentious ruling empowering defending teams to legally pull down an attacking rolling maul.

It is a decision which has earnt instant criticism from Harlequins'rugby director Dean Richards.

"Being allowed to collapse the maul is bound to take away a lot of its power," Richards said.

"One of the reasons why we in the Premiership didn't want this introduced was because of concerns about the safety aspect. Why are they prepared to heighten that risk by allowing it to be collapsed?"

The IRB is set to decide in November 2009 if all, or some, of the ELVs are to be brought into official law in time for the 2011 Rugby World Cup.