Tuesday, June 17th, 2008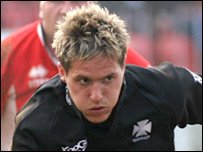 Source: Scrumhalf Gareth Jones dies after injuring neck in club match
A Neath rugby player has died in hospital after suffering an injury to his neck during a match on 20 April.

Scrum-half Gareth Jones, 28, was hurt at a ruck during a Premier Division game against Cardiff in the Arms Park, which Neath lost.
My Comments:  We love our rugby downunder, it is a sad day when a player looses his life playing this great game. Just a reminder to all who play, necks and heads must be given due care. Lets be careful out there !
All the best to the family.